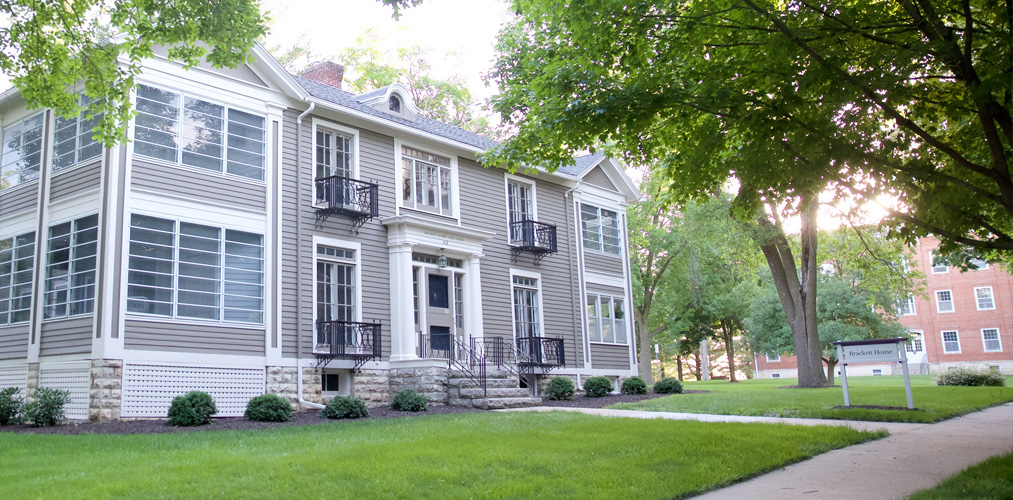 About Brackett House Bed & Breakfast
We're glad you're here! The Brackett House B&B is a historic inn associated with Cornell College in Mount Vernon, Iowa. We're located just steps away from campus (we counted—it's 15 if you have big feet) on what we affectionately call the Hilltop. We're also within easy walking distance of historic downtown Mount Vernon (five minutes at a fast clip) where you will find restaurants, shopping, a number of street festivals throughout the year, and a variety of places of worship. If you hop into your car you can easily reach several state parks, additional small towns to tour, and explore the larger cities of Cedar Rapids and Iowa City.
The House and Grounds
Brackett House offers four second-floor sleeping rooms with views of the college campus or other historic neighborhood homes. The first floor common spaces include a dining room, a living room, and two screened porches. Occasionally these spaces will host speakers or readings from college groups in the afternoon or evenings—Brackett House guests are always welcome to join in these events.
The living room offers multiple sitting areas, a built in window seat, and two writing desks. A gas fireplace is available to enjoy on chilly evenings, and a large screen TV and a variety of board games are available for entertainment. Two sets of French doors lead out to large porch area with views of the Cornell College campus.
The dining room offers multiple seating areas both indoors and outside on a second patio (weather permitting). Coffee and water will be available to guests in the dining room at all times.
The kitchenette is primarily reserved for food prep for the B&B staff, but if you need to stash away leftovers in the refrigerator, please make use of it. Please note, however, that Brackett House doesn't offer an open kitchen to our guests, so plan to take meals other than breakfast at one of our wonderful downtown restaurants or at the campus dining services in Thomas Commons when school is in session. (The Hilltop Café and Zamora's Market are open to the public during all standard hours.)
When you arrive feel free to use the front door on 2nd street or walk around the corner from the parking lot to access the back porch entry.
Accessibility
At this time Brackett House is not accessible. We apologize for the inconvenience, but the old bones of this historic building did not lend themselves to accessibility compliance.
Reservations
While we're associated with the college, we are happy to accept reservations from the general public. You can rent one or more rooms, or if you have a special occasion where you need a home base for a larger group, you can choose to rent the entire house. You can book rooms online or reach us directly at 319.895.4425 or email Bracketthousebnb@cornellcollege.edu.